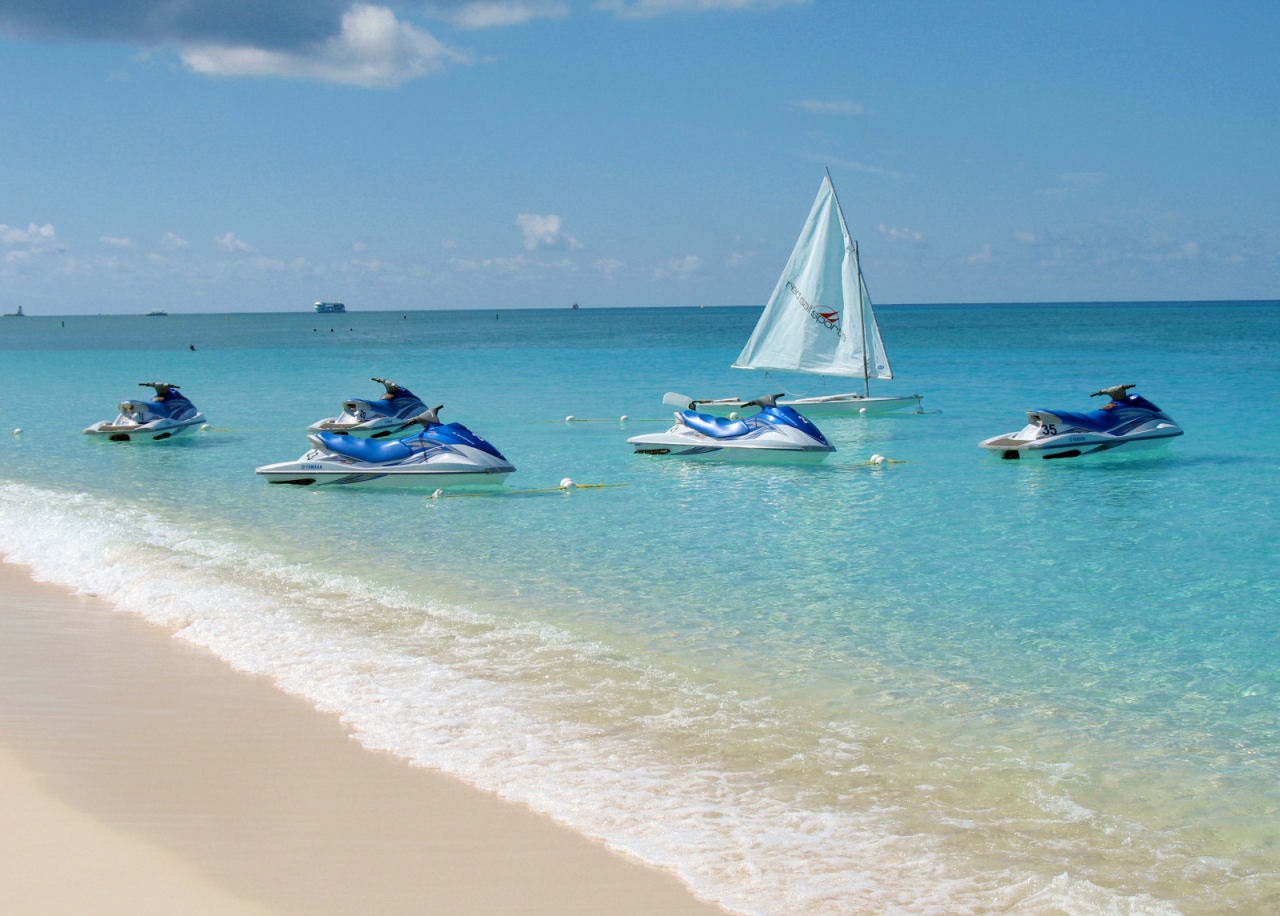 If you're looking for an exciting time out on the waves, then you are looking for an adrenaline-pumping high speed jet ski ride! Our simple and convenient jet ski rides will have you out on the Intracoastal Waters of Fort Lauderdale in no time. And even the most inexperienced beginner can safely rent from us-our friendly and professional staff will walk you through everything you need to know to have a safe and fun ride.
We guarantee you that racing across the Intracoastal Waters of Fort Lauderdale Beach is like nothing else you will ever experience. And with Yolo you can enjoy that experience in comfort and style. Our jet skis are Yamaha and Sea-Doo jet skis, so you know that you're going out on the water with the best equipment available.
These high powered machines are fast enough for any adrenaline junkie, no matter how many hours you may have logged on a jet ski. Yamaha has also made these Waverunners easy to operate, so if this is your first time out, you'll have the controls figured out intuitively. In addition, Waverunners are very stable on the water, which makes them perfect for beginners.
SeaDoos tend to be heavier on features, making them more popular with experienced riders. They are also smaller through the body, giving them an increased agility over the larger Waverunners. If you like to spin, you'll love SeaDoos. For this reason, though, we do not recommend SeaDoos to beginners. Rank novice or old hand, we'll have you blazing through the waters of Ft. Lauderdale – South Florida safely.
If you're feeling adventurous enough to leave the coast behind, we offer Ocean Access for small and large groups. Nothing feels like the middle of nowhere quite like being out on the water out of sight of land. If you're hoping to get a chance to get away from it all for a bit, this is it! The less crowded water will also give you more of an opportunity to try out some fancy moves.
If riding a jet ski doesn't give you enough of a thrill, we have just the right something extra to make your day unforgettable. Our snorkel adventure package takes you out on a high speed jet ski ride to beautiful diving waters. Spend as much time as you want exploring the reef and then go racing back to shore to tell everyone about it.
Interesting Fact about the word Jet Ski
Though the proper noun "Jet Ski" is a registered trademark of Kawasaki, the common noun "jet ski" refers to small recreational watercraft. The Oxford English Dictionary records the term in use in 1961 to describe the aquatic motorbike, and in 1948 to designate a jet-propelled aircraft equipped with skis. Ride with a Yamaha Sea-Doo Jet-Ski Today in Ft. Lauderdale and Areas, We offer Jet Ski tours in Fort Lauderdale on the Intracoastal and as well Ocean Access for you and your friends and family.